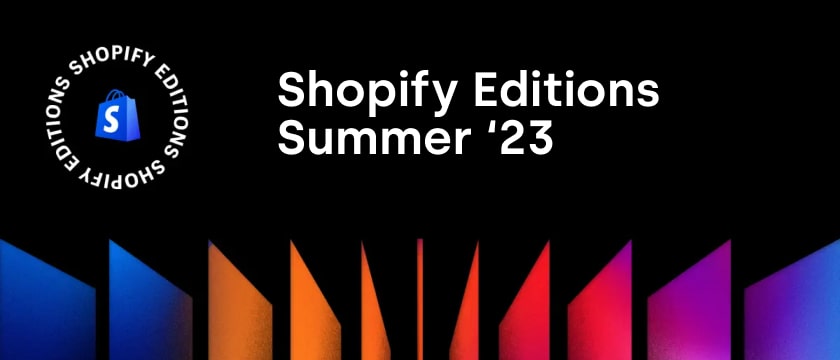 Introducing Shopify Summer Editions 2023: Unleashing the Power of E-commerce!
Introducing Shopify Summer Editions 2023: Unleashing the Power of E-commerce!
Date: July 27, 2023
Summer is here, and so is the heat of innovation at Shopify! As the leading e-commerce platform, Shopify never stops evolving to meet the dynamic needs of entrepreneurs, merchants, and consumers alike. We are thrilled to unveil the latest updates and features in our Shopify Summer Editions 2023, aimed at empowering businesses to thrive in the competitive digital landscape. From enhanced customization options to streamlined marketing tools, let's dive into the exciting updates that await our community.
1. Themes That Inspire: Elevate Your Brand Identity
First impressions matter, and with the new array of summer-themed templates, your online store can leave an unforgettable mark on visitors. Shopify now offers a stunning collection of aesthetically pleasing, responsive, and easy-to-navigate themes. Whether you're running a fashion boutique, a tech store, or an art gallery, these themes are designed to captivate your audience and elevate your brand identity to new heights. Moreover, with improved customization options, you can easily tweak the themes to align perfectly with your unique vision.
2. Augmented Reality (AR) Shopping Experience
In the spirit of embracing cutting-edge technologies, Shopify introduces AR-powered shopping experiences. This feature enables your customers to virtually try out products before making a purchase, revolutionizing the way they interact with your store. From visualizing furniture in their living rooms to testing out makeup virtually, AR adds an exciting layer of interactivity, boosting customer confidence and reducing the likelihood of returns. As AR technology continues to evolve, Shopify is committed to staying at the forefront of this transformative trend.
3. Advanced Inventory Management
Inventory management is a critical aspect of any e-commerce business. Shopify Summer Editions 2023 brings an enhanced inventory management system, allowing merchants to effortlessly track stock levels, receive alerts for low inventory, and manage multiple warehouses seamlessly. The new system also integrates with popular shipping carriers to streamline order fulfillment, ensuring a smooth and efficient process for you and your customers.
4. Automated Marketing Solutions
Marketing your store effectively can be time-consuming, which is why Shopify has invested heavily in automated marketing solutions for the Summer Editions. With the power of artificial intelligence, you can now create personalized marketing campaigns, send targeted emails, and engage with customers on social media automatically. The AI algorithms analyze customer behavior and preferences to deliver relevant content, promotions, and product recommendations, maximizing the chances of converting leads into loyal customers.
5. Secure Payment Options and Compliance
Security and compliance are non-negotiable in the world of online business. Shopify Summer Editions 2023 integrate with the latest payment gateways and meet the most stringent security standards to protect your customers' sensitive information. Moreover, with new privacy regulations in place, the platform helps you stay compliant and build trust with your audience.
6. Mobile Optimization Enhancements
Mobile commerce continues to grow rapidly, and Shopify recognizes the importance of an exceptional mobile shopping experience. The Summer Editions come with optimized mobile layouts, ensuring your store looks and functions flawlessly on smartphones and tablets. This improvement can lead to increased conversions, higher customer satisfaction, and better search engine rankings, given Google's mobile-first indexing.
7. Real-Time Analytics and Insights
To make informed business decisions, you need access to real-time data and actionable insights. Shopify's upgraded analytics dashboard provides comprehensive reports on sales, traffic, and customer behavior. Whether you're tracking the performance of a specific marketing campaign or analyzing the impact of a new product launch, these insights will empower you to optimize your strategies and boost your revenue.
Conclusion
The Shopify Summer Editions 2023 promise to be a game-changer for e-commerce entrepreneurs, equipping them with the latest tools and features to succeed in the digital realm. With enhanced customization options, AR shopping experiences, automated marketing solutions, and improved analytics, Shopify continues to cement its position as the leading e-commerce platform.
As the summer sun shines bright, so does the future of online business with Shopify Summer Editions 2023. Embrace the power of e-commerce innovation and take your store to new heights. Whether you're a seasoned entrepreneur or just starting, there has never been a better time to join the Shopify community and embark on a journey of success.
Visit the Shopify website today and explore the Summer Editions to unleash the full potential of your e-commerce venture. Happy selling!